Frequently Asked Questions
Complimentary Homecoming Festival Parking by UCI Transportation

  
FEBRUARY 11  |  In Select Parking Lots 
Homecoming 

parking

 is free with pre-registration of your vehicle prior to Friday, February 10th at 11:59 PM.  
Complementary parking is offered by UCI Transportation Services using UCI's Park by Plate app. Complimentary parking is only valid February 11 at the designated parking lots for the UCI Homecoming Festival and game and can only be attained through the app.
SELECT PARKING LOTS
Parking

 on event day without pre-registration will be $13.
If you have any questions about parking, please contact Sheila Nguyen at eventprk@pts.uci.edu.
We're offering alumni the perfect opportunity to get together and cheer on the men's basketball team at the homecoming basketball game: discounted alumni tickets! These tickets are available only until February 9–find your exclusive ticket link in our latest alumni homecoming emails. Didn't receive these emails?
Email us at alumni@uci.edu to get your 'Eater friends together at the game!
---
Frequently Asked Questions
Why should you support student scholarships?
Our UCI Alumni family is here to support students from the moment they first step onto campus. Each year, we award more than $140,000 to support and retain the best and brightest students of UCI. Some of these scholarships include the UCIAA Scholarship, Distinguished Anteater Scholarship, Aldrich Fellowship, Chancellor's Award of Distinction and various scholarships provided by our UCI Alumni Chapters. This is only made possible by the unending support of our generous donors like you! At no extra cost, a diversion of $5 of each homecoming festival ticket will go towards student scholarships. To learn more about scholarships click here!
How do I get my social media posts noticed by UCI?
Simply use #UCIHomecoming and/or #UCIAlumni in your post.
How can I become a paid member of the Alumni Association?
You're already a member! All alumni, upon completion of degree, are automatically enrolled in the General Membership tier for free. Upgrade to paid membership for access to exclusive discounts and benefits! Please see the UCI Alumni Association booth in the park. Visit our website at alumni.uci.edu/join for more information.
What is the next UCI Alumni event?
Visit alumni.uci.edu/events.
Where can I learn more about reunions at UCI?

To learn more about reunion programs and events throughout the year, contact UCI Reunion at ucireunions@uci.edu.
I am a current UCI Student. Do I need to register?

Current UCI students can attend the homecoming festival for free. Walk-ups welcome. Please bring your UCI student ID card to the festival for free entrance.
I have a question about homecoming festival registration/tickets, who should I contact?
You can contact UCI Special Events & Protocol at ucievents@uci.edu.
How much is a children's festival ticket?

Children 12 and under are free to attend the festival. Children 13 and older need to register for an adult ticket.
If I don't see my question, who should I contact?
You can contact the UCI Alumni Association at alumni@uci.edu.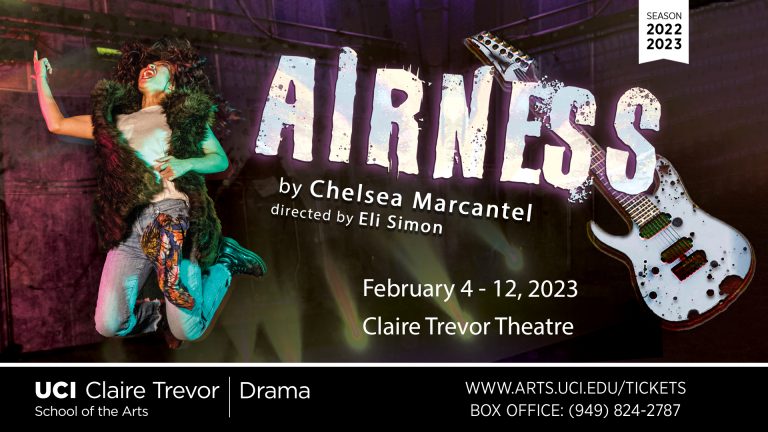 AIRNESS AT CLAIRE TREVOR THEATER
UCI Claire Trevor School of the Arts Department of Drama presents Airness. "An exuberant comedy about competition, completion, building community and finding the "airness" inside yourself in order to heal your inner demons."
Performances at The 

Claire

 

Trevor

Theatre:
Feb. 10 at 8:00 p.m. | Feb. 11 at 7:30 p.m. |

Feb. 12 at 2:00 p.m.
To purchase tickets, visit https://www.arts.uci.edu/event/airness
Thank You To Our Sponsors and Partners