Voting for your Homecoming royalty is now open!

Voting Page >
What does it mean to be on Homecoming Court?
It means you are an Anteater for life. UCI has become a home away from home for you and you want to be able to represent your school in life onward! Being part of Homecoming court and potentially royalty means you are someone that truly exemplifies what it means to be an Anteater and have spent your time at UCI taking advantage of all this university has to offer.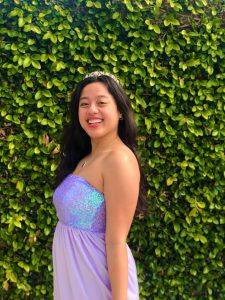 Samantha Padua, she/her/hers

| Psychological Sciences B.A., Minor- Sociology
Hello, everyone! My name is Samantha Padua (you can call me Sam, though) (she/her/hers), a 4th year majoring in Psychological Science and minoring in Sociology, and I have the privilege of being a part of this year's wonderful Homecoming Court!
Throughout my time at UCI, I've achieved things that my high school self only dreamed I would do. I lived in the dorms, the ACC apartments, and commuted to school throughout my four years. I was welcomed into supportive communities at UCI, like the Student Alumni Association (SAA), the Center for Student Leadership (CSL), ASUCI, and the C.O.A.C.H Program, and I even had the opportunity to take on leadership and mentorship roles within my communities.
As an immigrant from the Philippines who also has the pleasure of being the eldest daughter in my family, it is really important to me to uplift others and provide for those who may not know where to go for support. During my free time, I enjoy reading fantasy-romance and mystery novels, listening to music, hanging out with my friends and family, and practicing self-care.
Thank you for taking the time to get to know me a bit better, and I hope you have a magical day!
Phil De Vera, he/they

|
Human Biology & Psychology B.S.
Hello fellow Anteaters, my name is Phil De Vera (he/they), a current 4th year Human Biology & Psychology double major here at UCI! I was born and raised here in Orange County, so I honestly have some pretty good food recommendations as a REALLY big foodie!
I would say that I am a super energetic and bubbly person, who honestly loves to talk about anything and everything. Once you start talking to me, you will quickly learn that I tend to always be laughing and smiling, despite my very hectic and busy lifestyle. My favorite hobbies include going on adventures and food trips with my friends and listening to music, especially EDM and K-Pop! I have truly experienced a wide range of involvements here at UCI ranging from working in UCI Student Housing to being a part of a Professional Pre-Health Honor Society (ΑΕΔ) to being a part of my dance team, Level V Origins (LVO).
As of right now, I am currently working towards eventually attending medical school, but I have definitely been making time to enjoy the little things in undergrad before I fully commit to the life of a physician in the future. UCI has definitely become my home away from home in the past 4 years, and I hope that I can inspire people to make the most out of their time here and create memories that will last a lifetime, just like I have!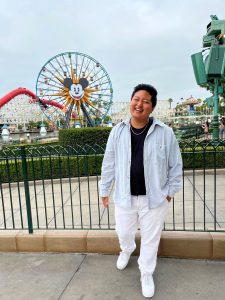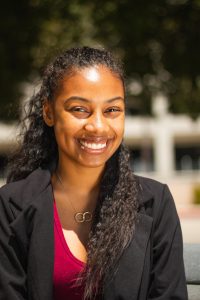 Nyah Beck, she/her/hers

| Anthropology B.A
Hey Anteaters! My name is Nyah Beck, pronouns she/her, and I am a 5th Year undergraduate student at UCI. I transferred from Los Angeles City College Fall 2020 to major in Anthropology and minor in African American Studies. I am a proud Umoja Scholar! Here at UCI I have been involved with the Umoja Pilot Program launch and work at the Student Outreach And Retention (SOAR) Center as one of the first Peer Educators to mentor other Black transfers acclimate and find their way to success at UC Irvine.
In addition to my role at SOAR I am apart of The Social Science Academic Resource Center (SSARC) team this year as a Peer Consultant. SSARC has been instrumental to my development as a student leader and provided resources that support me in these engagements as well as prepare for post graduate goals.
I am also in the Campuswide Honors Collegium (CHC), have been recognized as a Distinguished Anteater, Umoja Student Leader of the Year and am also the inaugural recipient of the Pokimane Scholarship. Outside of academics, I love to game and am very passionate about Esports. I am the founder and president of the Black Gxming Society (BGXS), built on a vision to Empower Black Gxmers, our goal is to foster community among Black and Brown gamers at UCI and promote diversity, equity, inclusion and belonging in gaming.
As I conclude my undergraduate studies, I am applying to MBA programs to level up BGXS to be bigger than just a campus organization at UCI. Overall I am incredibly proud to call myself an Anteater and believe being at UC Irvine has challenged me to think and allowed me to grow in ways that has enriched my life. My wish is for my peers and the students who come after me is they also find their home here at UCI.
It would be an honor if the spaces I have contributed to in these past three years would be the environments that fully embrace them. Zot! Zot! Zot!
Kaamilah Sha, she/her/hers

| Education Sciences & Psychology B.A, Minor- Digital Arts
UCI Anteatersssss, my name is Kaamilah Sha (she/her) and I'm ecstatic to run for this year's Homecoming Court! I'm currently a 4th year double majoring in Education Sciences & Psychology, with a minor in Digital Arts.
My time here at UCI has been nothing short of memorable. I've been able to develop wonderful friendships and become deeply well-versed in UCI culture through creating sketch comedy with After League, the premier sketch comedy organization on campus.
Curious to pursue my interests, I became a DJ for KUCI (our school's radio station) and helped put on events as an intern under ASUCI's Office of Student Services. Eventually in my college career, I took to giving back to the student body, and took on positions as a Resident Advisor, SPOP Staffer, and Campus Representative Coordinator!
I found my second home away from home here at UCI, and I will always cherish the strong community that I've been a part of. Thank you for taking the time to read and remember to vote!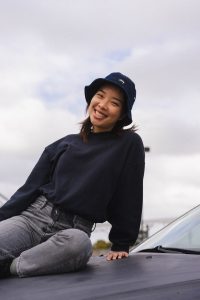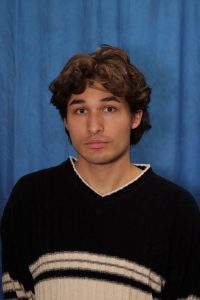 Travis Coffelt, he/him/his

| English B.A, Minor- Literary Journalism
Hi my name is Travis!! I am a senior English Major with a Literary Journalism Minor.
I transferred to UCI last year, and have had a great time on campus! Also, I am an intern for ATV, which stands for Anteater Television, which provides the campus with both entertaining and informative content.
As far as my life outside of campus I love fashion and thrifting, I would consider myself to be a veteran thrifter.
I am also a student that's a part of the LGBTQ+ community! You should vote for me to break the normative image of what a homecoming king should be.
I would love to be able to represent the fact that someone a part of the LGBTQ+ community can still win the title.
Thank you to our Sponsors and Partners