COUNTDOWN
TO ANTEATER FUN!
Complimentary Homecoming Festival Parking by UCI Transportation

  
FEBRUARY 11  |  In Select Parking Lots 
Homecoming 

parking

 is free with pre-registration of your vehicle prior to Friday, February 10th at 11:59 PM.  
Complementary parking is offered by UCI Transportation Services using UCI's Park by Plate app. Complimentary parking is only valid February 11 at the designated parking lots for the UCI Homecoming Festival and game and can only be attained through the app.
SELECT PARKING LOTS
Parking

 on event day without pre-registration will be $13.
If you have any questions about parking, please call 949-824-2691 or email eventprk@pts.uci.edu.

---
Disabled Parking/Mobility Assistance
Vehicles with disabled placards or license plates will be automatically directed to the designated reserved parking areas.
UCI Alumni Association is also pleased to provide special assistance to those individuals with accessibility needs. Once you've parked your vehicle, please notify a UCI Transportation staff member if you need assistance to Aldrich Park. Our cart drivers will shuttle you. This service is limited to the disabled/mobility impaired individual and one family member.
---
Motorist Assistance
VIP Service is provided on the main campus at no charge to all UCI affiliates and includes a Motorist Assist, Bike Assist and Emergency Ride Home Program. All VIP Services are available between 7 a.m and 11 p.m. Call (949) 824-9477.

Motorist Assist services include:
Mobile EV Charging

Jumpstart

Rescue Tow

Emergency Gas Delivery

Vehicle Unlock

Tire Sealant
Limitations include:
Jumpstarts may not be possible on 6 volt electrical systems or vehicles that require higher CCAs (Cold Cranking Amps), such as large V8 and diesel vehicles.

Use of tire sealant is a temporary fix that requires the owner to replace the tire.

Lockout service not possible on all vehicles.

Enough gas is given to reach nearest gas station to purchase fuel.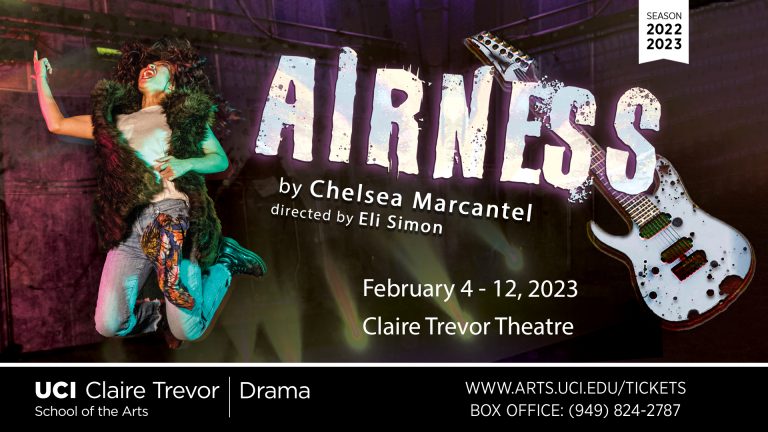 AIRNESS AT CLAIRE TREVOR THEATER
UCI Claire Trevor School of the Arts Department of Drama presents Airness. "An exuberant comedy about competition, completion, building community and finding the "airness" inside yourself in order to heal your inner demons."
Performances at The 

Claire

 

Trevor

Theatre:
Feb. 10 at 8:00 p.m. | Feb. 11 at 7:30 p.m. |

Feb. 12 at 2:00 p.m.
To purchase tickets, visit https://www.arts.uci.edu/event/airness
Thank You To Our Sponsors and Partners